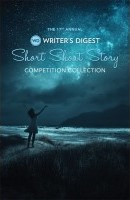 Linda's book, Taking the Mystery Out of Business, received rave reviews when it was first published in 2010. The book is currently out of print and the second edition will be released sometime in April 2020. Please check back, the publication date will be announced soon!
Linda's first novel, Second Time Around, is a mystery novel she wrote in 2009. The book is also out of print and Linda expects to re-release the second edition sometime this summer.
Linda's short-short story, Mama, placed 15th of more than 4,000 entrants in the Writer's Digest 17th Annual Short-Short Story Competition. It is published in the compilation with the top 25 entries.