Linda McHenry  is one of those people who struggles with a dual personality: the slightly quirky side with the wild imagination and the more conservative side that prompted her to establish three insurance businesses. In her case, these incongruent characteristics opted to hold hands and play nice, enabling Linda to parlay her long and successful career in the insurance industry into that of a novelist and freelance writer. Linda is a member of Mystery Writers of America, Romance Writers of America, and Sisters in Crime.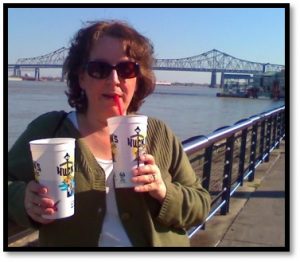 Linda published her first mystery novel, Second Time Around, in both print and eBook formats in January 2009. Second Time Around was promptly nominated for a 2010 EPIC Award in the Best Mystery/Fiction category. (The award ceremony was held in New Orleans, where Linda enjoyed herself immensely … see photo at right!) Unfortunately, the publisher passed away and the book went out of print. Linda is in the process of re-releasing the book and it should be available in both print and eBook format soon.

In addition to her fiction, Linda has also published numerous nonfiction books and publications, including magazine articles in Three Rivers Lifestyle and and a business column in The Weekender, a monthly entertainment newspaper issued in a suburb of Orlando, Florida. The bulk of her nonfiction work has been published in the insurance industry, where Linda has developed and written hundreds of continuing education texts, courses, and webinars. Linda is a long-time member of Mystery Writers of America, Romance Writers of America, and Sisters in Crime. She is currently working on the first in a series of romantic suspense novels.
Although she was born in the Big Apple, large cities are Linda's least favorite place to spend time. However, she has admitted to a fondness for the Big Easy's French Quarter…  So far, her favorite place of all time is Big Sky Country, where she lived for seven years: on ten acres, in the mountains, two miles off the highway, on an unpaved private road in the Rocky mountains of western Montana.
Linda now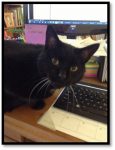 lives in Massachusetts. When she's not writing, she spends time in her garden, beachcombs on Cape Cod, hangs out with her grandchildren, and plays ball with her pound puppies Shayna and Angus. Murphy the cat would love to join everyone in the garden but, unfortunately for him, he is relegated to the indoors, where he also serves as writing assistant. Linda's favorite color is red … except when it's green, and she brews tea in her coffee maker.