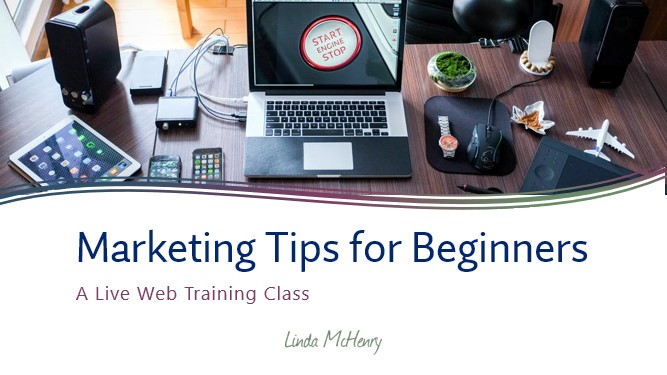 I presented my first live web training class on August 25 and had such an outpouring of interest, I decided to offer the recording to anyone who is interested.
In this class, I shared the marketing tips I used to establish 3 businesses in 2 different states and how I get the word out about who I am and what I do. For those of you who HATE the prospect of selling (which some people view as a combination of bragging and begging), I break down the components of marketing and help you figure out the best tools and methods to use based on YOUR personality and preferences.
Many people are surprised to learn I'm an introvert, with a much greater comfort level when I'm by myself or in small groups of people. If I could find a way to be comfortable and successful in a sales role for more than 30 years, and to present workshops and seminars in front of small and large groups of people, you can too!
How to watch/listen to Marketing Tips for Beginners:
Listen to the audio only podcast here
You can watch the YouTube video of the web class at any of the following places:
You can request a PDF copy of the PowerPoint slide deck used in the class (and which is shown in the YouTube video) by clicking here and scrolling to the bottom of the page. Disclaimer: Opting in to my mailing list is a requirement in exchange for the PDF document.